The key to beating type 2 diabetes is knowledge of the disease. For this reason I urge you to watch, entirely FREE of charge, the online Diabetes Turnaround Masterclass Series, a string of interviews with more than 20 of the best health and wellness experts around. Here's what you'll learn and how you can sign up.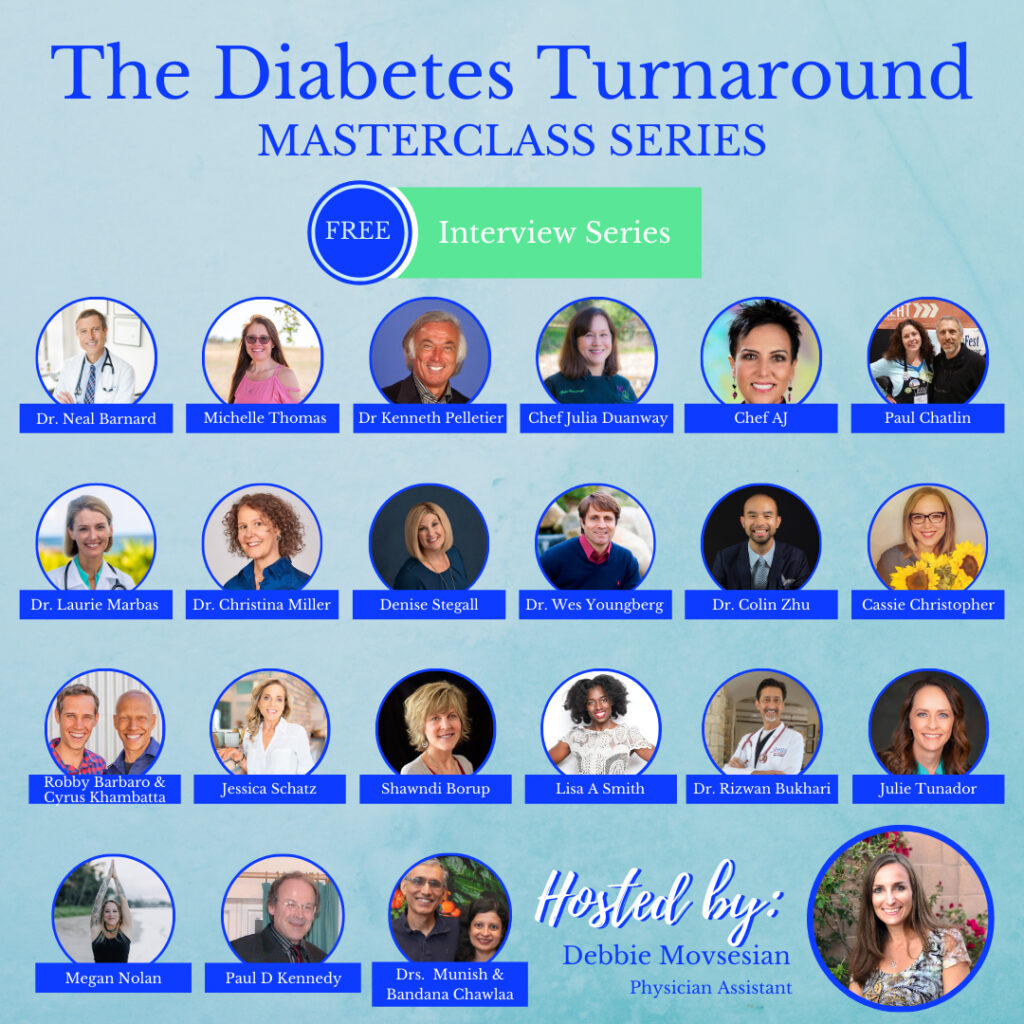 My friend, Debbie Movsesian, a superb organiser, has brought together 20+ top health and wellness experts for this free educational series on learning the truth about reversing type 2 diabetes and discovering simple, effective ways to lose weight, free yourself of chronic disease (such as dementia, Alzheimer's, and cardiovascular diseases) and live a longer, healthier, more abundant, and happier life.
The online Diabetes Turnaround Masterclass Series
From: September 28th to October 18th, 2020
Attendance online is 100% FREE
Hosted by Debbie Movsesian who interviews 20+ pre-eminent experts
The interviewees include well-known doctors, nutritionists, chefs and other experts such as:
Dr Neal Barnard, the pioneer in 'reversing' diabetes (who inspired me)
Dr Colin Zhu, chef and lifestyle medicine physician
Wes Youngberg, lifestyle medicine specialist
Robby Barbaro and Cyrus Khambatta, diabetes experts from Mastering Diabetes
Chef AJ, about permanent weight loss
The full list of experts is shown in the image at the top of this post.
These experts will cover a wide range of topics relating to type 2 diabetes and allied chronic diseases, including:
Insulin resistance and how to reverse it
Plant-based food you'll love to eat
Using life-style medicine to combat disease
Managing stress, weight loss, and more
Health disparities in Western medicine
How to lose weight with a full plate
The series will begin on September the 28th this year and each interview will be 45 to 60 minutes long, one interview per day. Recordings of the interviews will be available later, so there is no need to attend every day, provided you have signed up.
I urge you to sign up and attend. You will add significantly to your knowledge of how to reverse diabetes, more than you can get by reading my blog and my book Beating Diabetes.
Your take-away will include:
Learning the truth about reversing type 2 diabetes
Discovering simple, effective ways to lose weight
Finding out how to avoid other chronic diseases, such as dementia, Alzheimer's etc
Understanding how you can live a longer, healthier, more abundant life
As you are member of the Beating Diabetes club, I know that your health means a great deal to you. You aspire to a life without pain and suffering, without medications. You are determined to have the freedom to be active and do all the things you long to do … live life to the fullest while feeling great in your body, knowing that you'll be living a long, abundant and happy life.
With the right education you can reverse or prevent diabetes or a host of other chronic diseases and enjoy the life you deserve.
The Diabetes Turnaround Masterclass Series will provide you with the knowledge you need.
So I urge you to sign up right now by clicking this link
Kind regards
PAUL